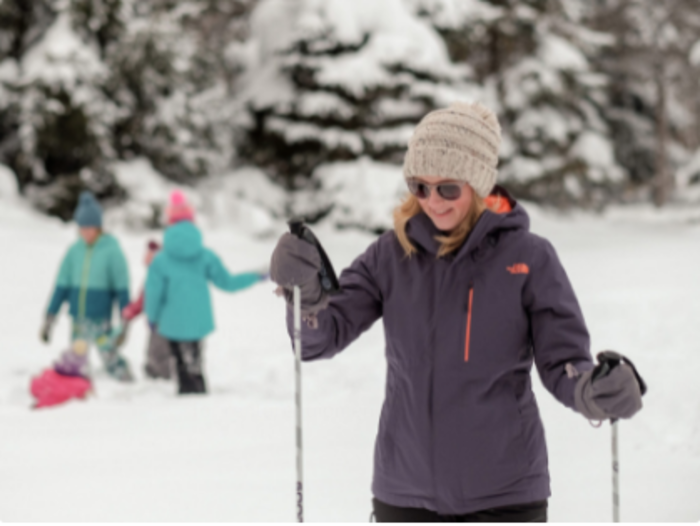 We rent top-of-the-line skis and snowshoes from Fischer, Tubbs, and Redfeather. We can equip small children and adults up to shoe size 14.
Pricing: $18.00 per day.
Rental includes skis, poles and boots if you are skiing or snowshoes and poles if you are snowshoeing.
Equipment is due the following morning by 11:00am EST.
We do not hold or reserve equipment, rentals are provided on a first come first served basis.
There are many options within 30 minutes of downtown Saugatuck.
The Saugatuck Dunes State Park is a great option for snowshoers of all levels and experienced skiers. With over 15 miles of trails (most of which lead to Lake Michigan) and steep undeveloped dunes, the SDSP is the most common skiing destination. Our staff can recommend routes for inexperienced skiers, although the terrain will be steep throughout most of the park.
The Allegan State Game Area is the best option for skiers of all levels. Located 25 minutes east of Saugatuck, The Allegan State Game Area has over 20 miles of trails in a quiet setting overlooking the parts of the Kalamazoo River Watershed. The terrain is heavily wooded and relatively flat, making it a great spot for beginners and skiers looking for a great cardiovascular workout. This area is open for skiing January 1st, if you attempt to ski this area before then, there is a relatively good chance you will be shot by a hunter.
The Outdoor Discovery Center is an excellent option for families with small children, or for inexperienced skiers or snowshoers looking for a quick 20-30 minute workout. Located 7 miles north of Saugatuck, the Outdoor Discovery Center has five naturally occurring, distinct ecosystems on its 155 acre nature preserve which include: ponds, wetlands, meadows, remnant prairies, and lowland hardwood forests.
The Outdoor Discovery Center offers 4 miles of trails and boardwalks which wind through the preserve. Located along the trails are interpretive signs, wildlife viewing points and outdoor classroom areas/educational stations.  The De Witt Birds of Prey Center houses 20 live, permanently injured birds of prey, including owls, falcons, hawks, and eagles. that are being rehabilitated in a natural outdoor setting. The founders hall Visitor Center, located at the entrance, has world class taxidermy exhibits, live reptiles and amphibians, and a wildlife viewing room. and usually offers lectures and demonstrations on weekends.  Be sure to bring your sled and sled down the sledding hill of the newly built Eldean Family Nature Play Park. The park is free to the public and donations are genuinely appreciated. 
---
Pigeon Creek Park, just north of Holland, is about 30 minutes from downtown Saugatuck. This park offers groomed trails, which are lit for night skiing. In addition, there is a lighted sledding hill and a heated lodge that offers hot chocolate during the ski season. This is a great choice for skiers who prefer groomed trails, and for families and those wishing to ski at night. This park is  free of charge. It can get crowded on weekends, but with over 10 miles of trails it is worth the 30 minute drive.
---
Suggestions and Tips from the crew at Landsharks:
Our staff has spent many days hiking, running, and skiing most of the aforementioned trails. We will try our best to suggest an appropriate area and trail for you. These tips might make your outdoor endeavor more enjoyable:
Stay away from cotton!     It is common for skiers to overdress. Cross-country skiing is an unrivaled anaerobic exercise. You will get hot and sweaty almost immediately. Cotton is a terrible base layer, because it takes a long time to dry and does not retain heat when  wet. Wool and synthetics such as polyester and capilene are much better wicking fibers – keeping you warm and dry when you perspire. Dress in layers, its nice to have the option to remove or add warmth during and after your workout.
Skiing and snowshoeing should be fun, not competitive. If you are a beginner, try to go slow and exaggerate the motion.  We do not give awards to the fastest or best skiers so enjoy your time outdoors and take it easy. If a hill seems to steep to go up or down, remove your skis and walk.  A bruised ego is better than a broken neck.
Hit different venues. If you are renting equipment for a few days we'd highly recommend visiting the Saugatuck Dunes State Park and the Allegan State Game Area if possible. Each spot offers different challenges and scenery so don't limit yourself to the same trail or park.
Be the first to comment...